Rachel Fitz Desorgher – Parenting & Baby Expert, Specialist Midwife on Independent Feeding – explains why she loves Doidy Cup.
I was "zooming" happily with my adorable grandchildren earlier this week – the oldest was showing me the gap where a tooth had recently wiggled free and the youngest, sat next to him,was giggling whilst trying to steal her brother's limelight by gurning crazily into the camera over his shoulder. I had disturbed them half way through their supper (a case of very bad grand-parenting!) and, as always, they had their cute little Doidy cups to hand filled with water to wash down their cheesy beans on toast.
Seeing those little cups brought back so many memories for me: the Doidy cup was first
introduced to me as a child when my own mother was weaning me and I had a number of them
constantly in use when I was bringing up my own four sons – sometimes filled with drinks over
chatty mealtimes, and sometimes filled with sand for pouring through funnels in the garden on
sun-drenched days, and then, of course, used in riotous water fights in the bath when I was too
tired at the end of the week to care.
Light and double-handled, and with that unique slanted top, the timeless design enables tinies to
enjoy that baby-controlled drinking experience that they crave from their earliest weeks. As a
specialist infant feeding midwife it was the first cup I'd suggest when mothers wanted to feed
their own milk but were unable to put their baby directly to their breast. Easier to clean than
bottles and teats, there is a good reason why mums have loved the Doidy cup since their launch
in the 1950s. Perfect for baby-led weaning the Doidy cup goes on giving great service for years as it invariably becomes the favourite of the independent-minded toddler who is adamant that they should be like the grown-ups … "ME DO IT!" Working now as a baby and parenting expert I continue to extol the virtues of this little gem and consider it an essential bit of parenting kit.
So there I was, zooming away, thinking back over all my Doidy years and, of course, as whenever
I see their cute snub noses and kiss curls, I grinned like an idiot and ached to hug them … and
then cried desperate tears when we blew our goodbye kisses.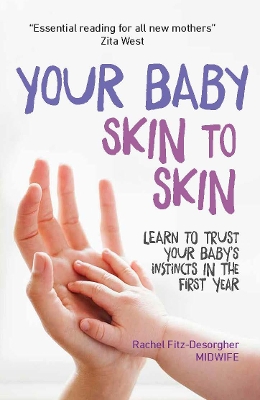 Rachel FitzD: Baby and parenting expert
Agony Aunt for Mother&Baby
Baby and parenting expert for The Baby Show
Author of "Your Baby Skin To Skin"
facebook.com/groups/RachelFitzD.Community
www.rachelfitzd.com